Creative strategies of team problem-solving
​It is common to encounter problems with essential matters like the right group dynamics or unconventional approaches in contemporary work environments. The unconventional approach of management staff to the implementation of certain tasks and increasing the creativity of employees, reflects on the innovation and entrepreneurship of teams. In a straight line, it leads to a better position of the organization on the market.
Category: Personal Development
Time commitment: 10 hours
Difficulty: Medium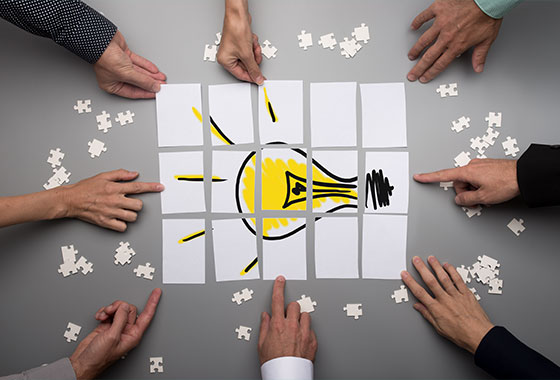 Online course description
This course aims to provide creative action strategies in the context of group work. Based on the theories of social psychology, focusing on issues of group dynamics, the tools presented here are for means of supporting creative dynamics and preventing their inhibitors. The course is dedicated to people managing groups and teams, who care about increasing the potential of team members and who do not want to fall into the trap of schematic thinking. We also recommend it to people interested in the subject of creativity.

The certificate we issue does not authorize any practice of a profession, it does not replace a university diploma or other documents required by law in order to practice the profession. It does, however, confirm the fulfilment of the knowledge and skills, as well as working on one's own development, which in itself is of value and may constitute a competitive advantage on the labour market.
What you will learn
creative thinking techniques
how to employ the method of creative thinking for group tasks
about the ability to appropriately react to creative thinking inhibitors within the group
about reinforcing the creative attitudes and behaviours of group members
the principles of managing a group.
Table of contents
Module 1 | An introduction to the theory of creativity and the creative process
Module 2 | Creative understanding of the problem and posing questions
Module 3 | Selected techniques of creative thinking
Module 4 | Categorising and selecting solutions
Module 5 | Characteristics of the creative group process
Certificate & Delivery
After passing online tests, you will immediately receive an online certificate.
You can also order physical copy of the certificate. We can deliver it to your home in more than 200 countries.
To check out delivery pricing please click here.