Teacher's assistant in a nursery
In the course 'Teacher's assistant in the nursery' we broadly discuss the issues necessary to work with children. It includes modules devoted to developmental psychology, methods of working with young children, as well as a lot of practical information, facilitating the performance of caring and nursing duties. The teaching assistant's development prospects are very large, and our course is the first step towards a successful career in the nursery.
Category: Teaching
Time commitment: 15
Difficulty: Begginer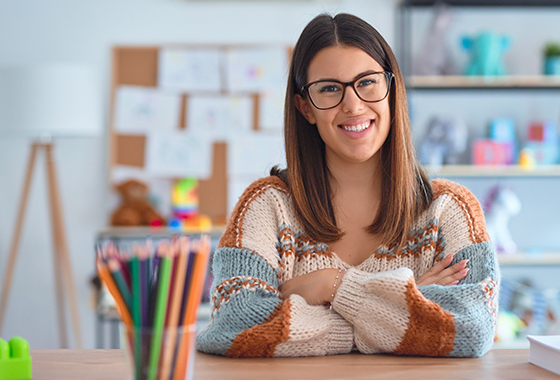 Online course description
Working as an assistant to the teacher in a nursery is an interesting proposition for people who want to take up employment in preschool education institutions, but do not have pedagogical education or are in the process of acquiring it. This is an excellent option for people who want to test themselves in working with young children. The nursery teacher's assistant helps the teacher in carrying out all their educational tasks. It is therefore an opportunity to gain experience in working with children and getting to know its specifics.

The certificate we issue does not authorize any practice of a profession, it does not replace a university diploma or other documents required by law in order to practice the profession. It does, however, confirm the fulfilment of the knowledge and skills, as well as working on one's own development, which in itself is of value and may constitute a competitive advantage on the labour market.
What you will learn
the classification of developmental theories
to characterize the needs of the child in a given period of development
about the developmental changes of the child in middle childhood
about specific actions taken to help the child in social and personal development
about the methods of working with children in nursery
the principles of providing first aid to children over 1 year of age
Table of contents
Module 1 | What is human development
Module 2 | Selected concepts of human development
Module 3 | The period of middle childhood
Module 4 | Care and educational goals of the nursery
Module 5 | Methods of working with preschool children
Module 6 | First pre-medical aid in nursery
Certificate & Delivery
After passing online tests, you will immediately receive an online certificate.
You can also order physical copy of the certificate. We can deliver it to your home in more than 200 countries.
To check out delivery pricing please click here.